7:15 am: I awoke to the chime reminding me it's time to workout. I double-check my phone to make sure I've not missed any messages during the night. I skip working out on Mondays but now I was fifteen minutes behind my normal wakeup time. I get up to start the coffee and the morning ritual of letting the dogs out.
7:35 am: I just showered yesterday evening because my private practice client was contracting yesterday. It didn't grow into laboring contractions so I got to sleep all night (yay!). However, I didn't really need a shower. But if I got called away toward the end of the day, I'd regret not having washed my hair. Okay, shower it is…just in case I get called out.
7:48 am: Standing in the closet in a towel wondering what to wear. Business casual is the preference because scrubs send the message that prenatal care is a medical event. I don't need scrubs for the functionality today, unless a baby comes. I do need scrubs for their PJ feeling so I choose scrub pants and a birth center T-shirt.
8:10 am: Second cup of coffee and Facebook checking. Weighing in on a midwife's question about statutory rape. She's approaching it as a midwife and debating her law enforcement husband about it. I am black and white and have a (former) law enforcement husband, too. The law is the law no matter how you soften it with midwifery thoughts.
8:04 am: I use the Curly Girl Method to deal with my hair which means using clips to hold up wet hair as it dries so that maybe I'll have some volume later. I drive to work with the clips and hope to remember to take them out before seeing clients.
8:30 am: I'm running behind which is not usually like me. Thankfully I don't wear much makeup because my best friend Martha battled a very aggressive breast cancer last year and most makeup is full of carcinogens and hormone disruptors. Eyeliner and mascara are a must or I'll look like my brothers though.
8:45am: After showering, dressing, and grabbing some Ezekiel bread toast, Audrey and I leave the house. I have my work bag with a stethoscope, a doppler, and a computer over my shoulder. I've replaced the work binder with the policies, protocols, state CPM and state birth center statutes and taken out the "prenatal bag" and BP cuff I only need for my home birth practice. All of these items will be replaced when I get home so if I get called out by my home birth client, I'm ready to go fast. She's having her fifth baby so I may not have much time to gather supplies. Audrey carries our lunch-just in case our Harmony NIPT rep can't make our lunch and learn. I settle my quart mason jar of NORA tea into the console awkwardly and we teasingly fight over if we're listening to Harry Potter (book 2) or Twenty-one Pilots on the drive.
8:46 am: Harry Potter is started (I won this time). My 14-year-old has asked me to listen to HP so I'm working my way through the books. I'm in the house of Ravenclaw.
9:40 am: I pull into my parking place and see damage from last night's storm. We enter, greet Lenora and Stevi and Audrey-who's decided to join me on my office day each Monday-takes our food to the refrigerator and grabs the blue flag for clients who stopped by for an incision check. One of our moms was going for a VBAC and gave it her all- but the hospital (and the OR) were the place for this baby to be born. We love to see our clients postpartum so we visited, exchanged a few hugs, and hoisted the boy flag.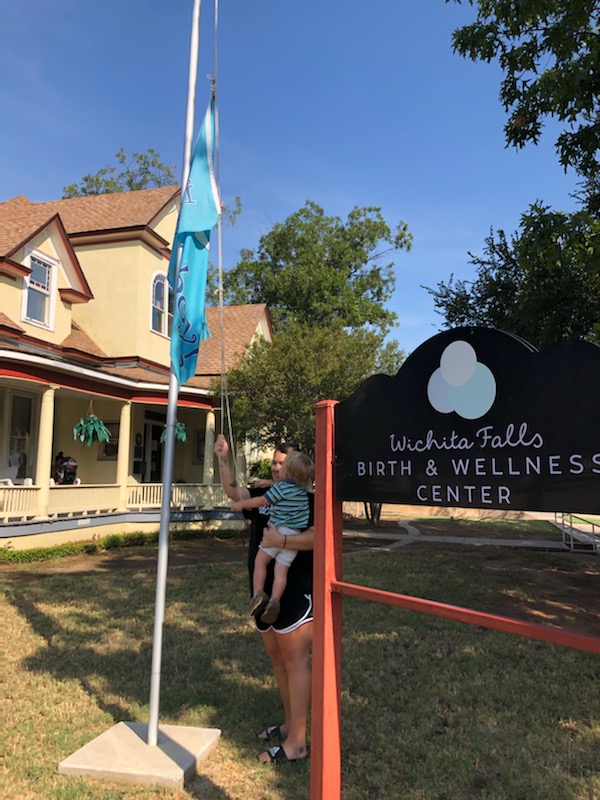 9:55 am: Lenora and I do a quick catch up before her next client. We tell Claudia, the rep, what we want from Jason's Deli. The second story is warm and stuffy thanks to an a/c problem so Aud settles into the Gathering Room and I take up residence at my "half office" downstairs next to Stevi. I am building the slides for a mandatory orientation we're implementing and I have to have it ready for the staff meeting next week.
11:10 am: Claudia arrives and we visit over salads, soups, and sandwiches. She works for Roche and is brilliant. She shares good news of a promotion and is so happy that in her new job she can come see us as friends and bring us gifts (she's doing some quarantine crafting and Christmas planning). We have always felt Claudia genuinely liked us (or is just really good at PR) and today's meeting solidified it. Time flies when you're gossiping about DFW OB practices and we have to get back to work seeing clients way too soon.
1:00 pm: My client arrives for her 34 week visit. She was a doula client with both of her previous babies so it's extra special to take care of her as a midwife. Because of some very unique family circumstances, we're doing a rare home birth for her. She's home schooling for the first time so we chat about how that's going and discuss the entire team coming to her home for the 36 week visit.
2:00 pm: My next client arrives with her husband-who just completed quarantine-and her toddler. Since the heat of the day makes my office hotter, we met in the Cari Suite-not exactly the most fun place for children. I try to hurry so we can show dad around before the toddler shows us how done she really is. I use the fetoscope, per the mom's request but find I can hear the loud truck going by outside easier than baby's heartbeat. I finally hear it so softly it could be my own, except mine runs in the 70s, not 140. We show dad around just in the nick of time-they escape out the door with the tiniest of the three in tears because he carried her and she wanted dooooowwwwwwwn!
2:35 pm: I check on Audrey who never really needs me. Last week she even helped answer phones while Stevi was on vacation. Audrey is eleven going on twenty-five and plans to go to A&M for a law degree. She loves to put her things in one of my work bags and pretend she's a "professional woman." I sit back down to work on the orientation. Death by PowerPoint happens to those making the PowerPoint too, just so you know.
2:50 pm: A storm starts to blow in so the flag is taken down fast and Stevi grabs the garbage bin and rolls it back to it's sheltered place behind the building. We watch the sky change to the north and wonder if this will bring babies.
3:00 pm: We're prepared to give a tour but she doesn't show. More PowerPoint it is.
4:30 pm: Another family is scheduled to tour and they did show. She's considering a late transfer to us after feeling the Covid-19 restrictions at the hospital are too much for her family. A client of ours she met at the park last week suggested she check us out. We answer all the questions and invite her to Tribe Talk so she can hear other women's stories.
5:15 pm: My oldest texts to update me on her day and ask our ETA. She came home early from her farming/ranching job because it was a crazy Monday and nothing was working. She's now researching vaccines and autism as "light" reading before she starts school this fall to embark on a journey to med school.
5:39 pm: I text our Tribe Talk leader to make sure she watches for the newcomer. She's excited to have a potential new member of the tribe.
5:45 pm: Audrey and I gather our things and get to the car. I have neglected the NORA tea since I worked downstairs and it was upstairs. I haven't strained it so I'm attempting to sip it without getting herbs in my mouth as we head out. We have the same "discussion" and compromise on HP until Bellevue then Twenty-one Pilots until she gets dropped off at my parents' house in Bowie.
6:30 pm: I take the HWY 59 exit and drive through the town I know better than the back of my hand, making my way over to my parents' house where my five girls spend most every Monday night watching movies, eating dinner and hanging out with their grandparents. This is the house in which I was brought home from the hospital and where I slammed my bedroom door too many times to count. I get out and visit with my parents, hear the girls' updates on their day-it gets a tad overwhelming, especially since I'm hungry and tired.
6:45 pm: Harry Potter-no one to argue with this time.
7:00 pm: I pull into my driveway and spy a few too many barn cats (don't ask how many).
7:02 pm: Shane's home, we tiredly greet each other, I pull out leftovers and he offers to cook but I already have something heating on the stove (no microwave here). Mondays are nice-cooking for two is so much easier than seven!
7:57 pm: I see my jar of kefir across the room and ask Shane to see if the girls refilled it with milk after they went to the dairy today. It's empty except for the grains I left with a little kefir last night. He asks how much milk and gives his opinion on how weird it looks. "Mind your business and just put the milk in it." Ashlyn and I enjoy kefir with berries each night (and banana for me, but she's highly allergic to bananas so we have to rinse it all off before she can use the stick blender). We'll have to wait until tomorrow to enjoy this batch thanks to the dairy for running out of milk-the summer is hard since production is down. Yes, we drink raw milk.
8:17 pm: I remember Audrey told me "Aunt Jennifer" my other best friend called today while she was listening to music on my phone. Mondays are great for easy dinner plans but horrible for friendships. I'm drained by the time I'm home and mostly out of words.
8:35 pm: I realize the house is not just quiet but it's dark. I hate the curtains being closed as the sun goes down. I ask Shane why our house looks like a dungeon and he says, "because it's dark outside." I counter that it's pretty outside still and he argues that he didn't say it was ugly. This is the epitome of the tangling of our communication styles. We open the curtains together so we can see the last few minutes of the sunset from our living room windows.
8:40 pm: I check on my future midwife partner's day at her apprenticeship. I scroll fb while we chat back and forth a little.
9:20 pm: It's too much for a text convo so I call her and we talk in low tones since it's late. We brush our teeth while talking so we can crawl in our respective beds like the old ladies we are. An hour later we hang up in case we are called to a birth in the next few hours. Such is life- everything is just in case we get called out.
Written by Wendy Fowler